In order to enjoy prolonged use of your JINS MEME ES_R, read this manual carefully before use to use it correctly and safely.
Copying this document in part or entirety without permission is prohibited.
Every effort has been made to ensure the accuracy of the content of this document, but if you notice any errors or have any questions, please contact your dealer or JINS MEME Customer Support Center( The JINS store does not support this service ).
The contents of this document may change in the future without notice.
The product could be damaged if it is used in a manner not described in this document.
About JINS MEME Academic Pack
JINS MEME Academic Pack is intended to be used in research by academic institutions and is able of capturing the raw data from the EOG and 6-axis sensors.
| Model | JINS MEME | JINS MEME ACADEMIC PACK |
| --- | --- | --- |
| Sampling Frequency of Sensors | 100 Hz | 100 Hz |
| Data Transmission Frequency via Blutooth Low Energy | 20 Hz | 50/100Hz |
Types of data that can be obtained from JINS MEME Academic Pack
| Mode type | Detail | Frequency | EOG | Acc | Gyro | Quaternion |
| --- | --- | --- | --- | --- | --- | --- |
| Standard Mode | Mode to acquire Acc at frequency and EOG at twice the frequency | 50/100hz(EOG x2) | o | o | - | - |
| Full Mode | Mode with the most data species | 50/100hz | o | o | o | - |
| Quaternion | Mode to get quaternions | 50/100hz | - | - | - | o |
SDK for JINS MEME Academic Pack
Signal processing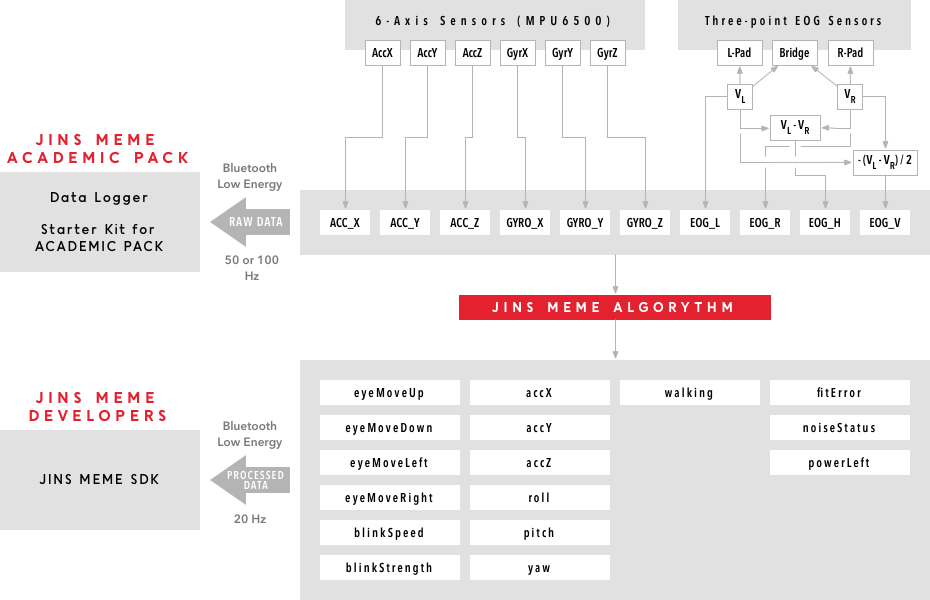 Sample data
The following is a sample of the EOG signal(blue:Vv, red:Vh) at 100 Hz during blinking and eye movement. Since a band pass filter is applied in the analog circuit, the waveform of eye movement is not stepped but converges gently.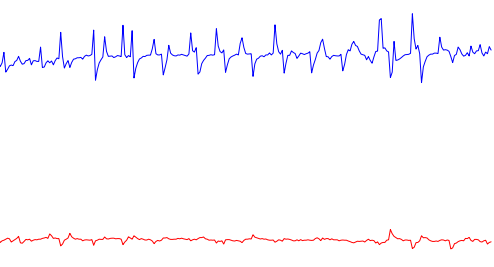 Trademarks
Android is a trademark or registered trademark of Google Inc.
Microsoft and Windows are registered trademarks of Microsoft Corporation in the United States and other countries.
Bluetooth is a trademark or registered trademark of Bluetooth SGI Inc. in the United States.
Other company names and product names are trademarks or registered trademarks of their respective companies.
The symbols ™ and ® are abbreviated for trademarks and registered trademarks in the text of this document.